Race between Al French, Maggie Yates could transform Spokane County government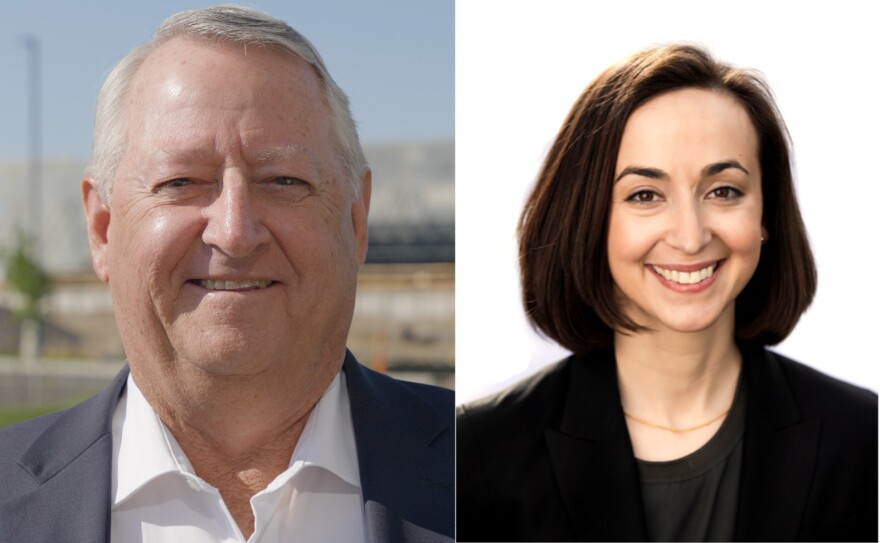 Of the five Spokane County Commission races on the ballot this year, the race for District 5 is likely the most consequential. Democrat Maggie Yates and incumbent Republican Al French are vying for the seat.
The outcome of their race will determine the partisan lean of the commission, and could mean changes for public health and safety.
This election will be the first in which Al French will face only the voters in his district in the general election. Previously, French, a fixture in Spokane County politics, architect and real estate broker, could rely on support from voters countywide, including those in more rural, conservative areas.
A state law now in effect added two new districts, and ended the county-wide commissioner elections.
French said because of last year's redistricting and two new commissioner seats, his race will likely determine the county's future.
"It's designed specifically to have two strong (Democrats), two strong (Republican) districts, and one swing district, my district was the one identified as the swing district," he said. "And it is going to be pivotal for the county. If my opponent wins, and the other two as you indicated win, you're going to have the same dysfunction at the county you see at Spokane City Council."
Yates, an attorney and proponent of criminal justice reform, points to the bipartisan endorsements she's won since the primary – including a former primary opponent, Republican Don Harmon.
"There's a real hunger in my district when I'm talking to voters who identify with all different parties, a real hunger to have representatives who are willing to work with people with diverse perspectives to meaningful solve problems on behalf of constituents." she said.
The outcome of the District Five race could be pivotal in some key areas. One is criminal justice. French said he wants to put a new Spokane County jail on the ballot.
"I think this is the year, we've exhausted all of our efforts to try and right-size the jail," French said.
Yates said she hopes to address issues she worked on while she was the county law and justice administrator – for example, investing in programs that address a chronic problem in Spokane County's justice system: failure to appear in court.
"It can be incredibly expensive, both for the individual, who misses a court date, because they can end up back in jail, because they can lose their job, lose their children, lose their housing," Yates said. "It's also expensive for taxpayers to pay for that individual to be housed again, to bring the judges, and the prosecutor and the public defenders back for another court date."
The two candidates also differ on managing public health. Yates said she wants more transparency, and a medical doctor on the Spokane Regional Health Board.
"I would want to make sure that we are repairing trust with our public health institutions," Yates said. "I think a lot of voters, and our families, really lost trust in the health district at a critical point in the pandemic because of the termination of the health officer and the restructuring of the board of health."
French has said an MD isn't necessary on the board.
Their race has also attracted outside attention, and spending.
Between them, they've raised about $353,000 in campaign contributions.
According to campaign finance reports, Yates has raised about $185,000, in this election cycle, and French has raised $161,000
Yates' biggest supporters include Washington Commerce Director Lisa Brown's campaign fund from when she ran for Congress, and several union groups.
French has received support from real estate interests and developers, as well as Avista and Amazon.
Only the 2014 county commissioner race, when French faced two local, well-known candidates, Mary Lou Johnson, an attorney who is active in racial justice causes, and Bonnie Mager, an independent who has been active in environmental issues, came close to this year's fundraising total.
Yates' views on criminal justice and the future of the health district are aligned with the progressive candidates in two new county commission districts. Those candidates – Amber Waldref and Chris Jordan – came in ten points ahead of their Republican opponents in the primary election. If that trend holds in the general election, they're likely to win their races.
If French wins, and Democrats are in the minority, he said he has a few things he'll be focused on. The first is preparing for a recession.
"We've seen significant population growth in the county, but what you haven't seen is an increase in the number of employees we have at the county," French said. "We're still at the same employment level we were back in 2000. And so you say, 'how do you do that?' You use better technology, you use better management, and some of the programs you do for no apparent reason, you get rid of."
French said he won't vote for any new property taxes next year. He said asking voters to fund a new jail would like be paid for through a sales tax. He argues a new jail will also cost less to run, which could free up funds to pay off the debt of building it.
"Taxpayers will make that decision, not me, and that's the way it should be," he said. "The voters should make a decision as to how we want to deal with the jail facility and crime in this community."
The conservative candidates in the two new districts also support a new jail. The progressive candidates, along with Yates, said the county should be looking for ways to reduce its dependence on incarceration.
In the primary, Yates led French by about three percentage points, but French said he believes in the general election, voters will come out for him because they want a candidate that's focused on jobs, and public safety.
But Yates is counting on something she said she's heard from many voters: that it's time for new voices in county government.
This story was corrected on October 21, 2022 to reflect that a new jail would be paid for through a sales, not property tax.