French, Yates county commission race too close to call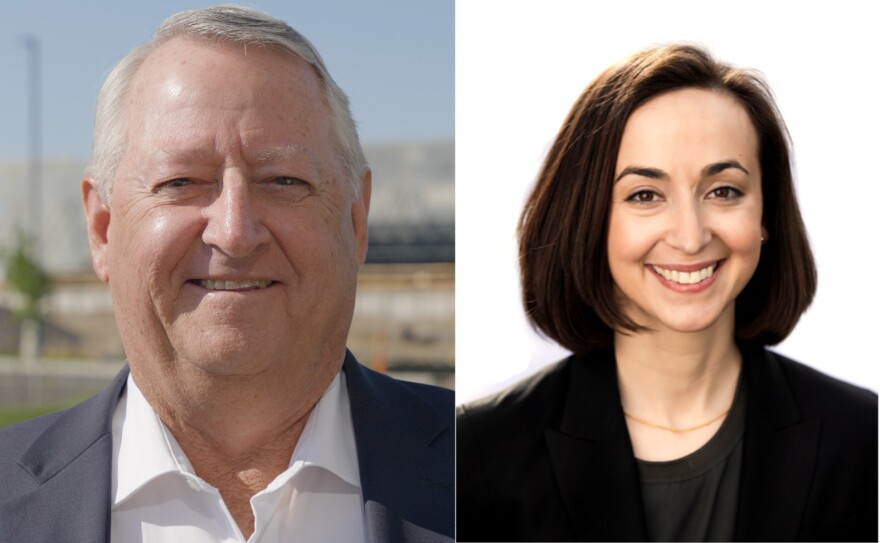 Initial results are too close to call in the race that will likely determine the partisan lean of the Spokane County commission.
On election night incumbent Republican Al French was ahead of Democratic challenger Maggie Yates by about 1.8 percent, or 542 votes. Preliminary results show their race was one of the highest turnout in the county, with nearly 43 percent of voters returning their ballots.
The Spokane County Commission is a five-member body that controls public health, the jail and funding for the Spokane County Sheriff's Office. For years it's been dominated by Republicans, and previously had three members that were elected by district in the primary and county-wide in the general election.
A state law redistricted Spokane County, adding two new districts and requiring district only elections in both the primary, and the general. French and Yates' District was designed to be the swing district.
That change also created two new districts in the city of Spokane, that both lean Democrat. Initial election night results showed that Northeast district Democrat Amber Waldref won 56 percent of the vote, leading opponent Michael Cathcart. Waldref is a former city council member who leads an initiative to provide more opportunity to low-income Northeast Spokane students. Cathcart is a sitting city council member who previously worked for a pro-business group, as well as the Spokane Homebuilders Association.
West Spokane district Democrat Chris Jordan was leading by 55 percent over Republican candidate Kim Plese. Jordan currently works in the Washington Attorney General's Office. Plese previously owned a sign printing business.
French, an architect and a real estate broker, has been on the county commission since he was elected in 2010. Prior to that, he was a Spokane City Councilmember. Throughout his campaign French stressed experience, and the backing he's received from Spokane County Sheriff Ozzie Knezovich.
"In this election, this is a classic example of experience and knowledge versus dreams and aspirations," he said. "If you look at my literature, it's about accomplishments, I deliver on my promises."
French called the policies Yates supports, such as bail reform and programs that help people get to court, "get out of jail free cards,"
Yates is the county's former law and justice administrator and is a proponent of criminal justice reform. In an interview earlier this fall, she said her goal in running was to make the county more transparent, and more inclusive of all voices.
"This race for me is not about creating a majority, but about creating change," she said. "It really provides an opportunity for transformative change."
The other two incumbents, Mary Kuney and Josh Kerns, were poised to win their reelection bids.
Kuney, who represents the South East county area, including part of Liberty Lake and Spokane Valley, was in the lead Tuesday night ahead of opponent Paul Brian Noble, a Spokane Valley pastor. Kuney won 57 percent of votes.
Both candidates are Republicans, with Noble farther to the right than Kuney. In campaign materials, Noble has been focused on his strong oppositions to COVID mandates. He's also questioned the integrity of elections, saying he opposes vote by mail and would use his position as a commissioner to increase oversight of the county auditor's office, which runs local elections. There is no evidence of widespread voter fraud and most Washington residents have been safely voting by mail since 2005.
Kuney is an accountant who previously worked at the Washington State Auditor's Office.
Josh Kerns, who represents most of unincorporated Northeast Spokane County also won his election bid against business owner "Wild" Bill Schreiner. Kerns took more than 77 percent of votes.
Kerns owns a marketing business with his wife, and previously was a legislative assistant too then state Representative Jeff Holy, now a state Senator, and former state Representative John Ahern.
The Washington Secretary of State's Office is reporting the county has at least 30,000 ballots left to count.