Two Groups Help Victims Of Okanogan Wildfires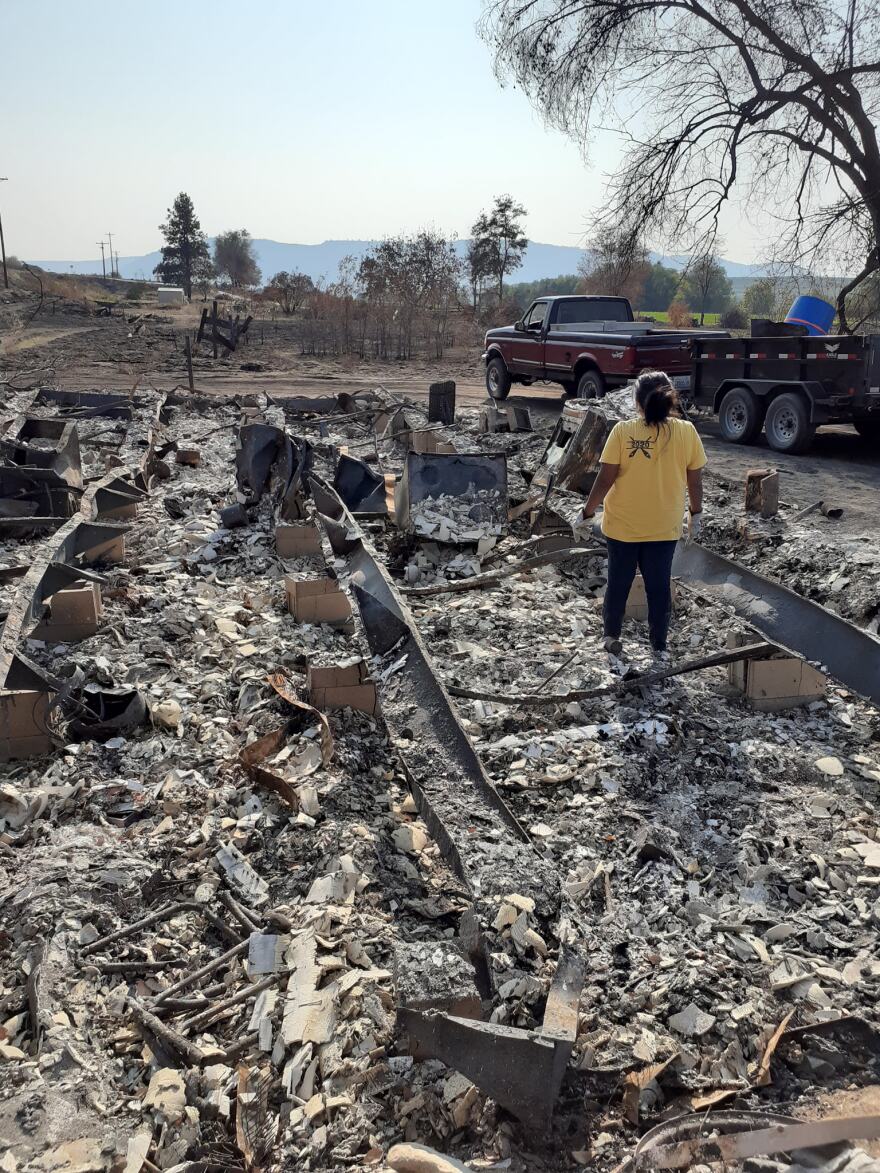 101320dn_okanogan_fire.mp3
SPR's Doug Nadvornick reports.
The early showing of winter may have helped to bring an end to a late-developing fire season in eastern and central Washington. But people who lost their homes in some of the Labor Day weekend fires are still dealing with their effects.
One Methow Valley institution and a Native non-profit organization are among those reaching out to people who need help.
The Methow Valley Interpretive Center wasn't in the path of the destructive Labor Day fires.
"We're over in the Methow Valley, so one valley to the west where the Cold Springs Canyon fire burned and burned fast," said David LaFever, executive director of the Methow Valley Interpretive Center.
"Many of us with the Methow Valley Interpretive Center know that some of our closest friends from the Methow Tribe, elders who have been really instrumental in the work that we do, whose story we're trying to bring to life, were in the path of it. The winds were blowing that hard. We were worried," he said.
Once the fire passed, LaFever and some of his colleagues drove to the neighboring valley to visit their friends. What they saw was devastation, homes and what was inside burned.
"Deep, ancestral stuff, baskets that their mother had made, amazing baskets, other beaded regalia, photos, stories, burned up in the fire. So, a lot was lost, culturally, for the Methow people and their families, in particular," he said.
LaFever's organization and several others immediately began a relief effort. Some found generators to repower homes that were still habitable. A group called the River Warriors Society has worked to build tiny homes as temporary structures to get families through the winter. Organizations haveremoved burned debris to allow landowners to rebuild.
And they've raised money, more than $15,000 as of Tuesday, to help homeowners replace basic infrastructure, such as heat pumps and water softeners.
The interpretive center also helped to replace cultural materials that are important to the Native people.
"We've been able to go out and collect some really important cultural plants, cedar roots and tules. One of the elders, in particular, and a group of basket makers and others use those materials to make baskets and have for generation upon generation. Some of those cedar roots that were gathered a year ago burned in the fire," LaFever said.
So he and friends went out to gather those plants while their Native friends tended to their troubles at home.
"It's been amazing to see their eyes light up. We're not just bringing a generator, which is totally needed, but we're bringing something that's really deep within them. It was a way to give back to those who have given so much in sharing their stories, sharing their cultures," he said.
Canoeing group helps fire victims
On the day after the fire started, September 6, Faith Zacherle's group, the River Warriors Society, and other groups of indigenous people, provided immediate, short-term help to people whose homes had lost power or were overrun by flames.
"Between those organizations and ours, we pulled funding and were able to provide buying generators in bulk," she said.
That allowed families to keep the lights and heat on. The groups provided gas cards, Walmart gift cards, food and hotel rooms where families could stay for the short term.
Zacherle is a member of the Colville Confederated Tribes. She says her group helped 24 families who lived on or next to the reservation. They've continued their work to provide needed supplies and to clean up burned homesites.
They're also working, with winter approaching, to help people find temporary places to live.
"We're trying to do the tiny home thing," she said. A few weeks ago, the group provided its first tiny home to a fire victim.
"We've have three more that are ready to be brought in and then there will be carpenters and volunteers that are going to come up and build the insides of them," she said.
Zacherle says her organization will continue to take food and cash donations at the River Warriors Society website and Facebook page.