New areas could be at risk of flash floods due to wildfire burn scars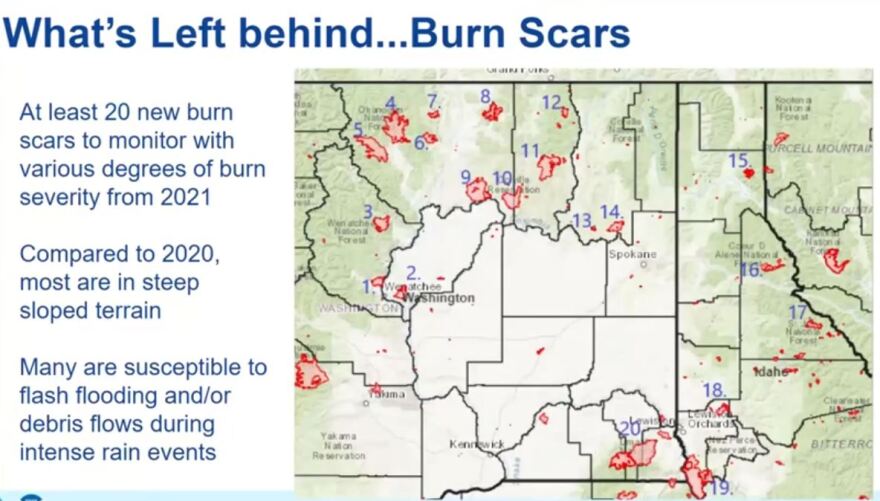 As wildfire danger grows in the West, so does the danger of flash flooding and debris slides.
When a wildfire moves through a thick forest, or stand of trees along a hillside, often the ground is scorched. The following year, the soil will absorb very little water, and erosion and runoff are much more likely. Robin Fox, a hydrologist at the National Weather Service's Spokane office, says those conditions can lead to flash floods and debris slides anytime a thunderstorm hits the area.
"Through this fall period when we've seen the rain increasing, we've been on alert as well, seeing how they're behaving with the rain, which has been light to moderate," she said. "So far the results have been very minor reports, impacts, sediment moving down, maybe onto a road, but nothing major at this point, but there is the potential when we get high intense precipitation."
There are about 20 new burn scars meteorologists will monitor for the next several years for flash flooding in Washington and North Idaho.
Flash flooding is mostly a concern in the spring, and in the summer during thunderstorms. Fox said the National Weather Service is keeping an eye out for flashfloods this fall as well however because of the steady precipitation.
"Some people may not have ever seen flooding in their area," she says, "or before, but now there has been a burn nearby, they may see it. If you are near, or downhill of any burn scar and there is intense precipitation, just plan for the unexpected."