North Idaho College responds to accreditation panel's investigation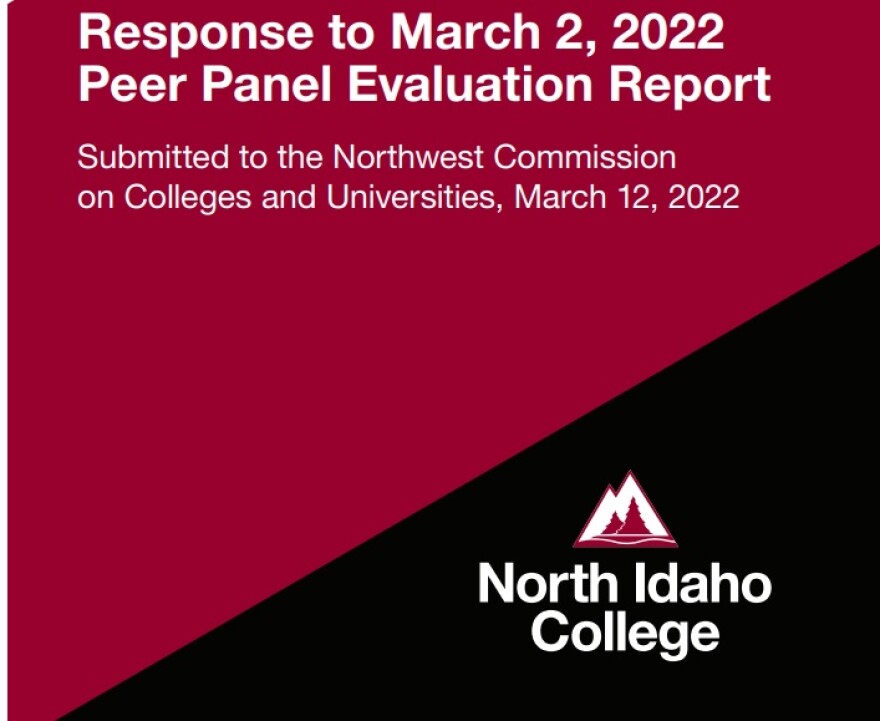 North Idaho College says it taking steps to improve a leadership situation that prompted an investigation from the body that handles the school's accreditation.
In a message to the Northwest Commission on Colleges and Universities (NWCCU), NIC Interim President Dr. Michael Sebaaly thanked the peer review group for their work and laid out the school's defense against allegations that some of its trustees have damaged the campus' reputation and functionality.
The NWCCU panel's visit was prompted by complaints against a three-member majority of NIC's Board of Trustees, led by board chairman Todd Banducci. Banducci has been critical of the school's leadership, and led the effort to dismiss former college president Rick MacLennan last September. The panel interviewed faculty, staff and students, and came away with the conclusion that Banducci's behavior had poisoned the general atmosphere at the college.
NIC's reply disputed some of the concerns mentioned in the NWCCU report; among them, that the Board of Trustees didn't do enough to mitigate the spread of coronavirus, that the board fired MacLennan inappropriately, and that academic freedom is being chilled. NIC spelled out its defense in each instance, outlining Covid prevention measures, stating that MacLennan could be fired without cause, and defending its practices for investigating and managing disagreements between students and faculty.
The college, based in Coeur d'Alene, also acknowledged what it called "the true nature of the overarching concern:" the perception that Banducci and fellow trustees Greg McKenzie and Michael Barnes created a negative, combative atmosphere driven by partisan enmity.
"While there is concern that 'disruptions of the board' are now impacting operations, the root of the problem remains a governance concern. College leadership is very aware of this concern and remains committed in its efforts to continue to separate college operations from board governance," the college's reply said.
NIC said Dr. Sebaaly — selected by Banducci, McKenzie and Barnes — had come into office lacking trust from faculty and staff. "This sentiment is not unusual for new leaders," the message said, noting that Sebaaly has been actively working to build trust and increase morale. As part of that effort, the interim president has sought student and faculty input in his decision-making processes.
The school mentioned other steps it's taking to get back on an even keel, including training for the trustees, improving orientation for new board members, working with an outside firm to hire a new permanent president, and replacing three deans who quit following MacLennan's firing.
While the NWCCU investigation report noted that NIC's accreditation could be at risk, a revocation is not likely. The report's authors recommended a possible probationary period during which NIC would keep its accreditation and work to get back into good standing. A Sebaaly-penned note to students and the community emphasized that point.
"NIC is an accredited institution," Sebaaly wrote March 22. "Even if the college were to receive a sanction by the NWCCU, NIC would retain its accreditation during the entire sanction process...Credits and degrees earned today and tomorrow will remain valuable and transferrable. All the credits on a student's NIC transcript are from an accredited college, and will remain so, no matter the outcome of the current NWCCU review."
In the formal reply, Sebaaly said the school's "introspection…strengthened the college and allowed for the further development of a successful way forward."
With the NIC response filed, the NWCCU executive committee will decide what to do next. Any sanction or decision will come from that body. Sebaaly had initially speculated NWCCU's response would come in late March or early April. More recently, Sebaaly said the process might take longer than first thought.